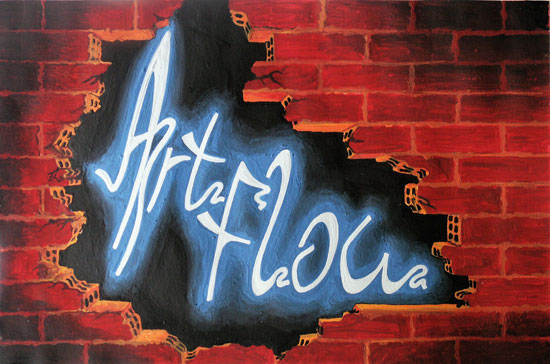 Oblivious, you sleep…
     But in the night time, we burn around.
We let black, be poured into the corners, so
just like shadows, we two can hide ourselves,
for changing your world illegally with untamed
painting lines.

We spill colour on wide shut windows
In lonely basements being lighted out and desolated
alleyways.Reflections, on ruins and
stairways with rust.Yellow, bright light on
quiet, grey avenues.Turquoise-blue, up to the
skies.With shades of red, we dress up passionately
the night.

And in the end, while walking a tightrope
on air, right in your free thoughts we creep in,
stealing your deep down sectet fantasies.

Colourful fingerprints, at the edge of our
own art…
Vana & Dimitra Bafaloukou